Pregabalin
Jump to navigation
Jump to search

Pregabalin

Chemical Nomenclature
Common names
Pregabalin, Lyrica, Nervalin
Substitutive name
3-Isobutyl GABA
Systematic name
(S)-3-(Aminomethyl)-5-methylhexanoic acid
Class Membership
Psychoactive class
Depressant
Chemical class
Gabapentinoid
Routes of Administration

WARNING: Always start with lower doses due to differences between individual body weight, tolerance, metabolism, and personal sensitivity. See responsible use section.




























DISCLAIMER: PW's dosage information is gathered from users and resources for educational purposes only. It is not a recommendation and should be verified with other sources for accuracy.

Interactions

Oxycodone

SSRI

MDMA

Pregabalin (also known as 3-isobutyl GABA and by the trade-name Lyrica) is a depressant substance of the gabapentinoid class. Pregabalin is a common prescription drug, which is typically used to treat neuropathic pain, anxiety, restless leg syndrome, and as an adjunct drug in the treatment of seizures.[3][4]
Pregabalin has a pharmacological profile comparable to that of gabapentin as they both share similar mechanisms of action and induce similar subjective effects. The advantages pregabalin has over gabapentin include greater bioavailability and potency,[5] as well as a wider variety of accepted medical applications for pregabalin not seen with gabapentin, such as its successful use in the treatment of anxiety, in which the use of gabapentin was not successful, excluding some more severe cases.[6] [7]
Chemistry
Pregabalin is a structural analog of GABA (gamma-aminobutyric acid), with an isobutyl group substituted on the beta carbon of the aminobutyric chain. Pregabalin is similar in structure to other gabapentinoids, such as gabapentin and phenibut. Pregabalin contains a carboxylated chain of hexane called hexanoic acid. This carbon chain is substituted with an amine group through a methyl bridge in (S) conformation at R3 and a methyl group at R5.
Pharmacology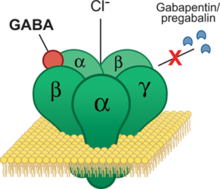 Pharmacodynamics
The pharmacological action of pregabalin is mediated by binding to the α2δ-1 site of voltage-gated calcium channels.[8][9] This site has also been referred to as the gabapentin receptor, as it is the target of the related substance gabapentin (also developed by Pfizer). Advantages to pregabalin over gabapentin include higher bioavailability and potency.
Although pregabalin is a chemical derivative of GABA, it displays no activity at any GABA receptors, including GABAA, GABAB and the benzodiazepine site. Pregabalin, despite its GABA backbone, does not appear to alter GABA levels in the brain, so its pharmacological activity is presumed to be unrelated to GABA.[10] Instead, it is its binding to the α2δ-1 site of voltage-gated calcium channels which appears to be the source of its subjective effects. By binding to this site, pregabalin reduces the release of several excitatory neurotransmitters, including glutamate, substance P, acetylcholine and norepinephrine.
Reduction in the release of glutamate and acetylcholine might be the cause of dissociative / deliriant like effects in high doses.
One study has also shown that pregabalin promotes deep sleep, thus enhancing sleep quality. This may be substantial because reductions in slow-wave sleep have been associated with anxiety and fibromyalgia.[11] Also, an independent action of the gabapentin site on the neurogenesis of excitatory synapses has been discovered. The endogenous neurochemical thrombospondin also binds to this site and is important for the generation of new excitatory synapses. Gabapentin and pregabalin, having a high affinity for this site, block this action and result in lower levels of excitatory synapses in animal models.[9]
As pregabalin treats conditions and neurotransmitters associated with overexcitability of the brain (anxiety, epilepsy, neuropathic pain), its modulation results in the sedating (or calming) effects of pregabalin on the nervous system.
Pharmacokinetics
Pregabalin is rapidly absorbed when administered on an empty stomach, with peak plasma concentrations occurring within 1 to 1.5 hours. Pregabalin oral bioavailability is estimated to be greater than or equal to 90%. The rate of pregabalin absorption is decreased when given with food, resulting in delay of approximately 3 hours to reach peak plasma concentrations, with peak levels themselves, decreased by about 25 to 30%.[12] Administration with food, however, has no clinically significant effect on the extent of absorption.[13]
Pregabalin undergoes negligible metabolism in humans. In experiments using nuclear medicine techniques, it was revealed that approximately 98% of the radioactivity recovered in the urine was unchanged pregabalin. The primary metabolite is N-methyl pregabalin.
Pregabalin is eliminated from the systemic circulation primarily by renal excretion as unchanged substance.[14] The elimination half life is 6.3 hours.[15]
Subjective effects
Each individual can have a very different reaction to pregabalin, thus it is essential to start at lower doses to ensure that it does not have any severe adverse effects such as peripheral edema or muscle pain. Disclaimer: The effects listed below cite the Subjective Effect Index (SEI), an open research literature based on anecdotal user reports and the personal analyses of PsychonautWiki contributors. As a result, they should be viewed with a healthy degree of skepticism.
It is also worth noting that these effects will not necessarily occur in a predictable or reliable manner, although higher doses are more liable to induce the full spectrum of effects. Likewise, adverse effects become increasingly likely with higher doses and may include addiction, severe injury, or death ☠.
Physical effects
Stimulation & Sedation - Pregabalin produces mild sedation and improves sleep onset latency modestly. Several studies have shown pregabalin improves sleep quality of those who take it for various indications. It is unknown if this effect is carried over to those who take it recreationally.[16][17] However, it is not an overly sedating substance when taken in the daytime.
Appetite enhancement - This effect is not particularly prominent, but is reported to occur in some people. It can have a synergistic effect when combined with cannabis.
Pain relief - Pregabalin is effective against certain types of chronic pain, particularly neuropathic pain, but not against acute pain.[18]
Spontaneous bodily sensations - The general "body high" of pregabalin can be described as a sharp, pleasurable tingling sensation which is location specific to the hands, feet, and head.
Physical euphoria - This component, while prominent in the experience, is generally not as strong as the cognitive euphoria that can be induced. The sensation itself can be described as feelings of physical comfort, warmth and bliss.
Muscle twitching - Somewhat paradoxically, since pregabalin is used as an adjunct treatment for epilepsy, pregabalin, especially in higher doses, can produce muscle spasms. Anecdotally, seizures have been reported in overdose.
Respiratory depression - While pregabalin may cause respiratory depression, this effect is not as strong as those with opioids and benzodiazepines.[19]
Muscle relaxation - While the muscle relaxation experienced on pregabalin is not as powerful as that of diazepam or other benzodiazepines, it is still prominent.
Dizziness - This effect is fairly prevalent at higher doses.
Perception of bodily lightness - At very high doses, some users report feeling lighter.
Difficulty urinating- This effect is commonly reported by users.
Visual effects
Hallucinatory states

While pregabalin isn't commonly thought off as a trip drug, it still can cause dissociative and even psychotic like effects at higher doses. Sleep deprivation and genetics might play a roll into the hallucinatory states of Pregabalin. Pregabalin's hallucinatory states are (but not limited to) :
Visual disconnection - This effect is generally quite mild and appears inconsistently at high doses. It results in feeling as if one's sense of vision is distant or vague and being viewed through a screen or window. However, pregabalin is rarely reported to cause holes, spaces and voids or hallucinatory structures , it can in some users (sleep deprivation might enhance this effect) but it is far from the typical experience. Pressing on your eyes while sitting in a dark room on a high - very high dose may result in very mild structures and sceneries
Cognitive effects
The cognitive effects of pregabalin can be broken down into several components which progressively intensify proportional to dosage. Pregabalin's headspace is comparable to a more clear-headed alcohol or benzodiazepine intoxication, although it can take a more dissociative turn at high dosages. The most prominent of these cognitive effects generally include:

Empathy, affection, and sociability enhancement - Pregabalin presents distinct entactogen/empathogenic effects. In large contrast to benzodiazepines (which merely increase sociability through disinhibition), at high dosages pregabalin directly increases the urge to communicate with others with feelings of empathy, love, closeness and connection being well-defined. These effects, although weaker than that of MDMA, are still prominent.
Amnesia - Compared to benzodiazepines, pregabalin is only mildly amnesiac if not combined with other depressants. With chronic usage or high dosages, one should expect more "tip of the tongue" moments and impaired short-term memory (e.g., walking into a room and forgetting what you were supposed to do there). Total blackouts do not seem to occur except in combination with other substances.
Cognitive euphoria[22] - Many users who take pregabalin describe a moderate to even intense euphoria, even at lower doses. Many users describe it as similar to opioid induced euphoria. The sensation itself can be described as powerful and overwhelming feelings of emotional bliss, contentment, and happiness.
Increased music appreciation - The music enhancement from pregabalin can be described as music sounding more detailed, 'higher quality', and even slowed down on higher dosages.
Motivation enhancement - Like kratom, pregabalin can be mildly sedative yet increase motivation in a stimulant-like fashion.
Creativity enhancement - This effect is especially noticeable on higher doses.
Depersonalization and Derealization - At high/heavy doses, pregabalin can induce a mild dissociative state. The DPDR from pregabalin can be increased and made more negative (dysphoric) by sleep deprivation.
Suicidal ideation - In very huge doses this effect can lead to suicide attempts, sleep deprivation may increase this effect.
Psychosis - Even at medicinal doses, pregabalin has been shown to have psychotic side effects in minority of it's users [23][24]. This effect is strongly potentiate by sleep deprivation and may be higher for people with genetic risks of psychosis / schizophrenia.
Mania - Even if pregabalin is used to treat bipolar disorder [25],it can cause mania (even in medical doses in certain cases). [26]. In recreational settings, in high / very high recreational doses or/ and when the user is sleep deprived , this effect can occur, but its still not a part of the typical pregabalin experience, this effect can be low in intensity (hypomania) or go hand in hand with Psychosis and appear as a full blown manic psychosis. It is important to acknowledge this effect is very, very rare.
Auditory effects
Distortions - These are usually mild and only present at extremely high doses.
Auditory hallucination - Pregabalin is known to have psychotic / delirious side effects in certain people, especially at higher doses, with low tolerance and if the user was sleep deprived. The hallucinations can be tinnitus, voices , and other delirious sounds.
After effects
The effects during a offset of an Pregabalin experience are generally positive and more similar to an 'afterglow' rather then a 'hangover'. These effects are usually very mild compared to peak effects. The after effects of Pregabalin are:
Experience reports
Anecdotal reports which describe the effects of this compound within our experience index include:
Additional experience reports can be found here:
Medical uses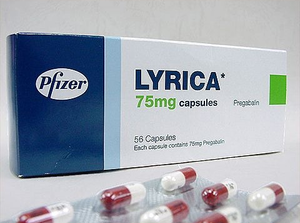 Pregabalin is used in a medical setting, usually prescribed in capsules, to treat epilepsy, neuropathic pain, fibromyalgia, and generalized anxiety disorder. Its use for epilepsy is as an add-on therapy for partial seizures with or without secondary generalization in adults. Some off-label uses of pregabalin include restless leg syndrome, prevention of migraines, social anxiety disorder, and alcohol withdrawal.
Seizures
Pregabalin is useful when added to other treatments, when those other treatments are not controlling partial epilepsy. Its use alone is less effective than some other seizure medications. It is unclear how it compares to gabapentin for this use. Pregabalin has also been shown to be effective against alcohol withdrawal induced seizures [27].
Neuropathic pain
The European Federation of Neurological Societies recommends pregabalin as a first line agent for the treatment of pain associated with diabetic neuropathy, post-herpetic neuralgia, and central neuropathic pain. A minority obtain substantial benefit, and a larger number obtain moderate benefit. Other first line agents, including gabapentin and tricyclic antidepressants, are given equal weight as first line agents, and unlike pregabalin, are available as less expensive generics.
Anxiety disorders
The World Federation of Biological Psychiatry recommends pregabalin as one of several first line agents for the treatment of generalized anxiety disorder, but recommends other agents such as SSRIs as first line treatment for obsessive-compulsive disorder and post-traumatic stress disorder. It appears to have anxiolytic effects similar to benzodiazepines with less risk of dependence.
The effects of pregabalin appear after 1 week of use and is similar in effectiveness to lorazepam, alprazolam, and venlafaxine, but pregabalin has demonstrated superiority by producing more consistent therapeutic effects for psychosomatic anxiety symptoms. Long-term trials have shown continued effectiveness without the development of tolerance, and, in addition, unlike benzodiazepines, it has a beneficial effect on sleep and sleep architecture, characterized by the enhancement of slow-wave sleep. It produces less severe cognitive and psychomotor impairment compared to those drugs and may be preferred over the benzodiazepines for these reasons.
Substance disorders
Opioids
Anecdotal reports[28] exist of successful discontinuation of opioid use by supplementing with pregabalin.
Tobacco
One placebo-controlled four-day trial (n=24 completed) investigated the effects of pregabalin on smoking cessation in non-treatment-seeking smokers.[29] This study did not find any statistically significant effect on smoking behavior, although pregabalin reduced some withdrawal symptoms: anxiety, irritability, and frustration. Pregabalin also reduced the measure of subjective "liking" after smoking a cigarette.
Alcohol
A meta-review of five studies concerning the use of pregabalin in treating alcoholism or alcohol withdrawal found positive results for relapse prevention in sober patients at dosages of 150-450 mg/day, but conflicting results for the treatment of acute alcohol withdrawal.[30] Two of the studies concerned the only maintenance of abstinence. Both showed positive results. In one of them (n=59), pregabalin compared favorably to naltrexone on the measure of days abstinent from any amount of alcohol.
Benzodiazepines
One open-label pilot study[31] of 15 individuals with high-dose benzodiazepine dependence reported that all subjects have successfully discontinued benzodiazepines within 14 weeks, while taking supplemental doses of 225-900mg pregabalin/day. The patients also showed reduced anxiety levels and better cognitive functioning. Pregabalin was well tolerated.
Toxicity and harm potential
Pregabalin likely has a low toxicity relative to dose. However, it is potentially lethal when mixed with depressants like alcohol or opioids.
It is strongly recommended that one use harm reduction practices when using this substance.
Lethal dosage
The LD50 for rodents has been established to be greater than 5000mg/kg. Rat IV LD50 was also determined to be greater than 300mg/kg.[32]
In terms of humans, there exists a case report of a man who ingested 8,400mg pregabalin and eventually fell into a coma but was managed with supportive care alone until he regained consciousness.[33] For comparison, the maximum recommended a therapeutic dose of pregabalin is 600mg/day.[34] Pfizer's official package insert for Lyrica states that the highest accidental ingestion of pregabalin during clinical trials was 8 g, with no significant consequences.[35]
Tolerance and addiction potential
Pregabalin was initially thought to be non-addictive with a low abuse potential and little tolerance development. However, recreational use of the substance has caused a re-evaluation of this assessment. The euphoric effects of the substance and the development of tolerance can lead to the use of dosages far above the therapeutic range, which suggests both the potential for recreational use and addiction.[36][37]
Tolerance will develop to the depressant effects within several months of continuous use. After cessation, the tolerance returns to baseline in 7 - 14 days. Withdrawal symptoms or rebound symptoms are likely to occur after ceasing usage abruptly following a few months or longer of steady dosing and may necessitate a gradual dose reduction.
The withdrawal effects of abrupt cessation of chronic use include anxiety, insomnia, sweating, muscle spasms, gastrointestinal problems, hot and cold flashes, nausea, and a flu-like feeling.
Interactions
One report of a patient entering serotonin syndrome following perioperative Oxycodone and pregabalin exists.[38] However, several studies have failed to find any serotonergic effect whatsoever from pregabalin. One paper states, "Although pregabalin is a structural analog of GABA, it has no clinically significant effects at GABA-A or GABA-B receptors, and it is not converted metabolically into GABA or a GABA agonist. Pregabalin is not a serotonin reuptake inhibitor and does not act as a glutamate receptor antagonist."[39] A more recent study writes that "Pregabalin has no involvement with serotonin and dopamine receptors and does not inhibit dopamine, serotonin, or noradrenaline reuptake."[40] Pregabalin's main mechanism of action is binding and blocking sub receptor on Voltage-Gated Calcium Channels, leading to a downstream reduction of overactive neurons.
If pregabalin has serotonergic effects, it could interact negatively with other serotonergic substances, including SSRIs, MDMA, various analgesics, and possibly other recreational and medical substances. Given the total lack of evidence for any serotonergic activity in multiple studies, it seems possible that the one reported adverse event was a freak accident, caused by unknown factors.
Legal status
Pregabalin is regulated as a prescription drug in most countries.
Germany: Pregabalin is a prescription medicine, according to Anlage 1 AMVV.[41]
Norway: Pregabalin is in prescription schedule B alongside most benzodiazepines and painkillers. It was rescheduled to schedule B from the less restrictive schedule C because of reported recreational use, tolerance development and addiction.[42]
Sweden: Pregabalin is a prescription drug. classified as a controlled substance, as a schedule V drug, since 24 july 2018 [43]
Switzerland: Pregabalin is listed as a "Abgabekategorie B" pharmaceutical, which requires a prescription.
Turkey: Pregabalin is a 'green prescription' only substance[44] and illegal when sold or possessed without a prescription.
United Kingdom: The Misuse of Drugs Act 1971 makes it illegal to possess the drug without a prescription and, for such purposes, it is classified as a Class C drug.[45]
United States: Pregabalin is in Schedule V, indicating "low potential for abuse." For comparison, benzodiazepines are in Schedule IV.[46]
See also
External links
Literature
References