Tapering
Jump to navigation
Jump to search
Tapering refers to the gradual lowering of a drug's dosage over a prolonged period of time. It is a harm reduction practice which is highly recommended for those who are physically dependent on psychoactive substances because stopping one's extended usage abruptly (also known as going cold turkey) can result in unpleasant withdrawal symptoms, which can sometimes be life-threatening.[1] The sudden discontinuation of alcohol, benzodiazepines, and barbiturates can result in seizures and death.[2]
Withdrawal symptoms may occur after ceasing usage abruptly following a few weeks or longer of steady dosing and the severity of the withdrawal symptoms increase the longer one uses the substance. Withdrawal symptoms can generally be minimized or avoided by tapering the dose slowly and carefully monitoring for symptoms. Symptoms vary depending on the specific substance and can include (but are not limited to) increased heart rate and/or blood pressure, irritability, anxiety, nausea, headaches, tremors, insomnia, depression, sensitivity to pain, hallucinations, seizures, and death.
Tapering methods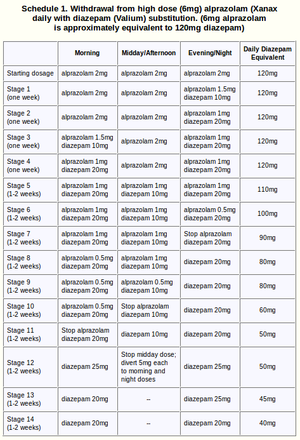 To taper successfully, users should decrease their dose each day or at least stay at the same dosage; however, if withdrawal symptoms are intolerable, one may be tapering too quickly and should slightly increase the dosage until withdrawal symptoms become minimal. Generally, the longer one has been on the drug, the longer the taper should be.[3] Slow tapers will result in less withdrawal symptoms than faster tapers. It may be helpful for users to stay at the same dosage for several days/weeks and then decrease amount slowly.
In comparison to the cold turkey, tapering can take more self-discipline. It is recommended that users give the drug to someone trustworthy and have them only give the dosage listed on the pre-planned tapering schedule daily. In some cases, however, the cold turkey method can be preferred by individuals or even more effective than tapering for some substances. For example, studies show that the cold turkey method of tobacco cessation is more likely to be effective for individuals looking to quit smoking.[4]
Substances with long half-lives (like diazepam) are preferable to shorter-lasting ones (including alprazolam and lorazepam) because the latter are eliminated fairly quickly, resulting in its blood concentrations fluctuating instead of smoothly declining gradually. Tapering off of substances with short half-lives generally require taking multiple dosages per day and users will likely experience withdrawal symptoms between doses. Diazepam is the most commonly used drug for tapering off of benzodiazepines or alcohol because it has a half-life of 200 hours.[5] To avoid withdrawal symptoms when switching over to a longer-lasting one, users should factor in potency differences between the substances.
Tapering schedule examples
The overall schedule of the taper should be determined on an individual basis, depending on many factors including one's initial dosage, length of use, and specific substance used as well as its potency, duration of action, and half-life.
As an example of a slow withdrawal schedule, a user taking 40mg diazepam a day (or the equivalent) could reduce their daily dosage by 2mg every one or two weeks until a dosage of 20mg diazepam per day is reached; this would take 10 to 20 weeks. Starting from 20mg diazepam per day, reducing the amount to 1mg per day every week or two may be preferable, taking a total of 20 to 40 weeks.[5] Some users may prefer to reduce faster and some may go even slower.
Alternatively, examples of faster tapering schedules include:
Reducing one's daily dose by 25% every day
Reducing one's daily dose by 10% each day
Reducing one's daily dose by 20% every 3-5 days
Reducing one's daily dose by 25% each week
More detailed examples of tapering schedules for various benzodiazepines can be found on the Ashton Manual. These can be used as a reference when designing one's own tapering schedule.
Emergency tapering
Emergency tapering can be done if one does not have the time or enough of the psychoactive substance to attempt a slow, planned taper. In this method, users stop their drug use until the onset of withdrawal symptoms and then dose very small amounts every hour until the symptoms are tolerable. Redosing should only be done when withdrawal symptoms become intolerable. Since benzodiazepine, alcohol, and barbiturate withdrawals are the most dangerous drugs to experience withdrawal from and can cause seizures and death in severe cases, it is recommended that users seek treatment at a medical facility or hospital in an emergency situation.
See also
References